Thought Leaders 5
John Fullerton and Regenerative Capitalism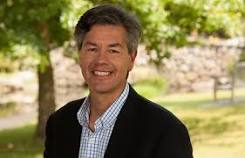 Regenerative Capitalism has two components: first, a shift to a "regenerative paradigm," and second, an evolution to a more complex understanding of what we need to understand as "capital" if the economy is to be ecologically sustainable and also promote shared well-being.
The regenerative paradigm is adapted from the leading edge of the design field. It demands a profound shift from the mechanistic and reductionist worldview of the industrial age, to a holistic, living systems or ecological worldview, consistent with our latest understanding of how the universe (including life on this planet) actually works. It understands the economy as embedded in – not separate from – culture, and embedded in the healthy working of the biosphere. In this worldview, social ills and the environment are not "special interests," separable from the whole, anymore than a healthy circulatory system is separable from a healthy person.
Regenerative capitalism refers to a holistic, sustainable approach to economic development. It references such concepts as a switch from cradle to grave to cradle to cradle resource processing where the end of life of a product is recycling rather than disposal. A related concept is intelligent growth also known as upcycling or creative reuse whereby the used up product is transformed into one of better quality or value than before.
John B. Fullerton is the founder and president of Capital Institute,[1] "a collaborative working to explore and effect economic transition to a more just, regenerative, and thus sustainable way of living on this earth through the transformation of finance." Through the work of Capital Institute, regular public speaking engagements, and university lectures, John has become a recognized thought leader in the New Economy space generally, and the financial system transformation challenge in particular.
John is the author of Regenerative Capitalism: How Universal Principles And Patterns Will Shape Our New Economy[2].
John is also a recognized "impact investment" practitioner.
John spent years embarked on more entrepreneurial ventures as an impact investor while engaging in deep study of our multiple interconnected systemic crises that led to the founding of Capital Institute, officially launched in 2010.
John is a co-founder and director of holistic ranch management company Grasslands, LLC,[5] a director of New Day Farms, Savory Institute, and the New Economy Coalition,[6] a trustee of the V. Kann Rasmussen Foundation, and an advisor to Armonia, LLC,[7] the UNEP Finance Inquiry, and Richard Branson's Business Leader's initiative ("B Team").[8]In spring 2014, John was nominated and became a member of Club of Rome.